If you can't stop talking about your CuboAi/CuboAi Plus and want to recommend it to a friend, send them your unique referral code. When they purchase via that code, you'll get rewarded! Discounts and rewards can be claimed in the following currencies USD/GBP/AUD/CAD.
How do I access my unique code and link?
Just head into your CuboAi App's Settings and tap into Recommend CuboAi & Earn Rewards🎁 Then tap the Share Your Link button to share!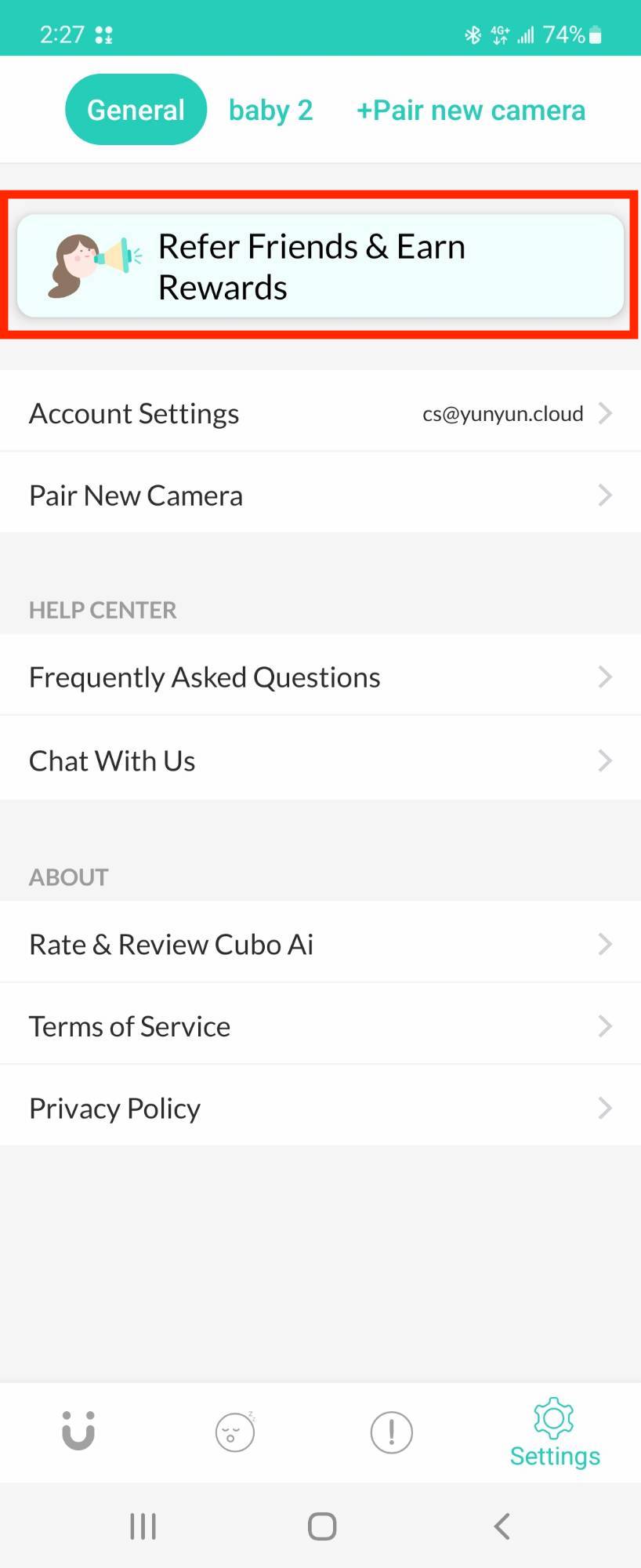 How do I know if I've made a successful referral?
Once your friend makes a purchase with your unique referral code, the referral purchase will show up in the Referral Summary section under Recommend CuboAi & Earn Rewards. If an order has been cancelled or refunded, the status will be reflected here as well.
My friend purchased CuboAi/CuboAi Plus using my referral code but it didn't show up in my referral summary
Please reach out to our Customer Support team with your account email and your friend's order ID so we can assist further.
I have more questions about the referral program
If you have specific questions about the referral program, please get in touch with our Customer Support team via the in-app chat or via Messenger at m.me/cubobabymonitor


Referral Program Terms & Conditions
Referral discount redeemable only on www.cuboai.com

Successful referral is defined by the purchase of a CuboAi made via your unique link if the order made is not canceled or refunded within the 45-day return period.


For the verification of a referral-purchase to pass the 45-day return period, a grace period of 55 days (UK) and 50 days (US/CA/AU) applies from time of referred purchase until that of approved rewards.

Referral rewards will be issued via an e-gift card according to your selected region.

Your referral summary can be found by going to your CuboAi App Settings and clicking on Recommend CuboAi & Earn Rewards 🎁. After the reward becomes valid for redemption, your reward will be available to claim.

All rewards claimed will be processed on the 15th of the following month or the day after if a holiday occurs.

Referral discount cannot be used in conjunction with the Multi-

baby monitor

discount. Successful referrals are based on the number of orders successfully recommended. If your friend would like to purchase two or more

baby monitor

s, please have them purchase separately, one unit per order.
It is prohibited to sell or distribute voucher codes or referral links or to distribute them on ecommerce platform. CuboAi retains the rights to revoke the redemption benefits any time after the vouchers or links are activated.

Please pair the CuboAi

baby monitor

with your CuboAi account in the App to activate your unique referral link. There is a limit of 20 referral vouchers per account, which includes the account owner & all Family Sharing members. Please contact the customer service team for other requests.
*Please note that CuboAi reserves the right to update these policies at any time without notice.