Guarantee & Warranty
All Cubo devices purchased from our official website or Amazon listing (Seller: Cubo AI Baby Monitor/Cubo AI Baby Monitor AU/Cubo Ai Baby Monitor EU) comes with a 45-Day Satisfaction Guarantee and a 1-Year Warranty starting from the date of delivery.

If you'd like to double check the Satisfaction Guarantee & Warranty status for your Cubo, please contact our Customer Support team, and provide us with your Order ID & your Cubo's Serial Number for reference.
Note: Our warranty policy gives you specific legal rights, and you may also have other rights which vary from state to state and country to country. For example, in compliance with EU law, Cubo comes with a 2-Year Warranty for EU customers.
For more information on the Warranty, please click here.
Exchange
Under normal use, your Cubo device should be free of defects in material and workmanship within the 1-Year Warranty period. If you do encounter any issues with your device, please contact the Cubo Support Team first. We will help determine the potential cause, provide further assistance, and replace the defective item without additional charge if a replacement has been deemed necessary to resolve the issue.
Note: If the country of the return address does not match the original delivery address country, user has to pay for the return shipping fee when sending back the defective item.
Repair
If a product has sustained any man-made damage, or it has surpassed the 1-Year Warranty period, Cubo can provide paid repair services. Please contact our Customer Support to initiate the repair process.
Repair Fee:
There will be an Inspection Fee and a

fee

for the parts used in the repair.

The

price of the replaced parts will vary depending on what is required for each individual case.
Inspection Process:
After contacting our Customer Support and submitting a Repair Request form, the defective item will need to be sent to our local warehouse at user's own expense. We will then arrange for the item to be sent back to our Repair Center in Taiwan.

Upon receiving the repair quote, the user must decide whether or not to proceed with the repair. If user decides not to proceed with the repair, then the Inspection Fee must still be paid and we will arrange for the original item to be sent back to user.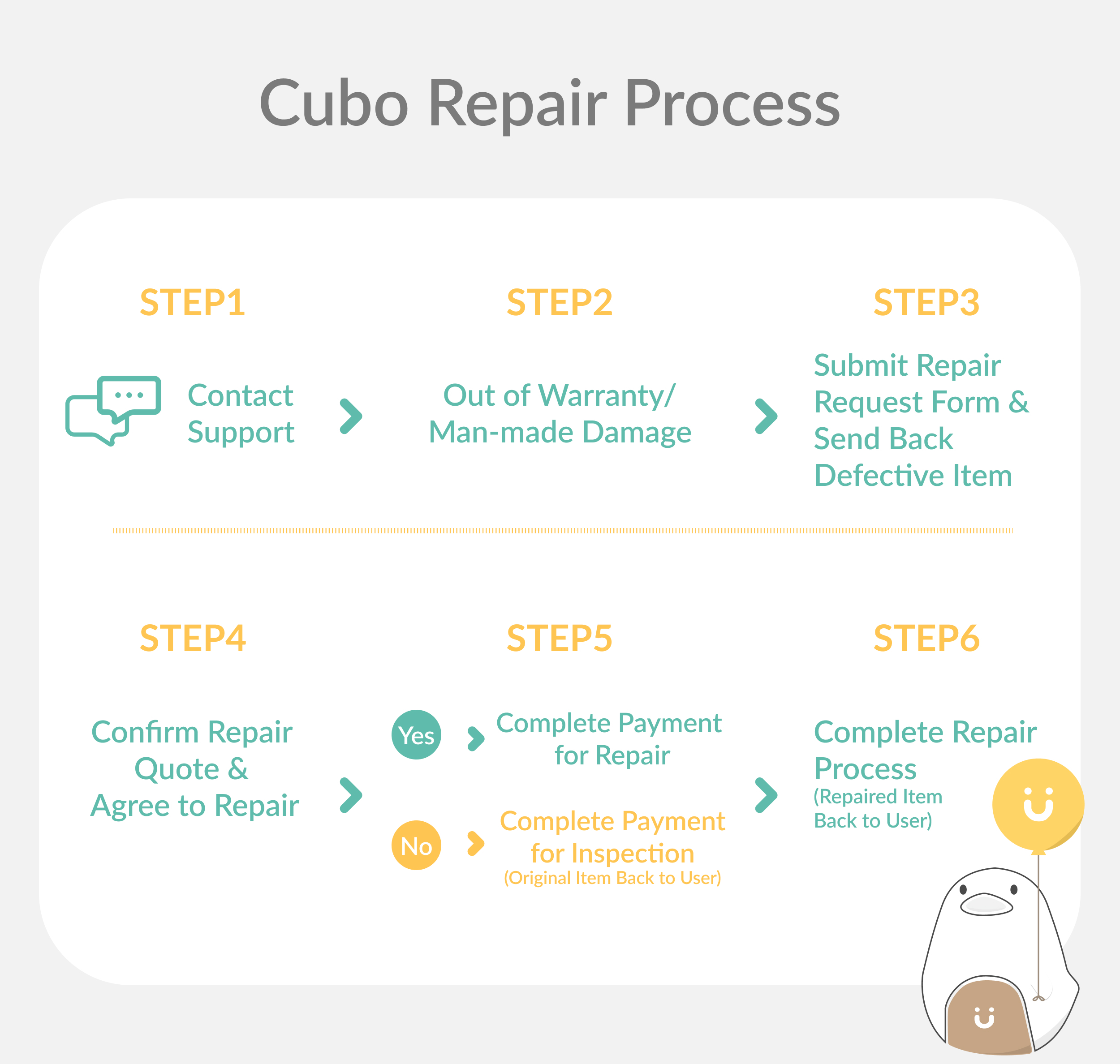 Cubo Reminders:
The total repair process may take 3-4 months due to the impact of COVID-19; if you have any repair requirements, please contact our Customer Support Team.

All repaired goods are entitled to a 90 Day Warranty period from the date of receipt. (This excludes any man-made damage such as product dismantling or modification, water damage, dropping/breaking the product, etc.

If any malfunctions occur within the 90 days, we will provide a free repair service and replacement of the damaged part(s).)


The repair service only applies to the Cubo camera. For other Cubo accessories, (such as U-stand, plug, or crib attachment) please contact Customer Support for further assistance.
Returns
Users have 45 calendar days from the date of delivery to request a full refund.

Please contact our Customer Support team and provide your Order ID, reason(s) of return.

For orders placed on Amazon, please contact your Amazon Regional Customer Support or the Amazon site from which you purchased the Cubo AI baby monitor.

When returning the product, please restore the product to its original condition and maintain its integrity (including the outer box, accessories, etc.)
For more information on the Returns process, please click here.
Customer Support Contact Information:
In-App: Settings → Help Center → Chat with Us
Facebook Messenger: m.me/cubobabymonitor
Email: support@getcubo.com