CuboAi's Nighttime Sleep Reports provides a comprehensive sleep report that helps you understand Baby's sleep patterns and sleep habits. CuboAi monitors Baby's sound and movements and automatically records sleep activities.

Once you set up Sleep Reports, you will receive a notification when the sleep report is ready. The sleep report is generated every morning and will be available for review within 2 hours after Baby's wake up time.

🐤 CuboAi Reminder: Sleep Reports can only be set up when the baby monitor is placed on the U-shaped stand with its camera lens pointing directly down at the crib.
Nighttime Sleep Report Features:


Day of the week

Total Sleep/Wake-ups: Crying & Movement

Activity timeline. Toggle left and right to see more details on the following:
a.

Eyes Open (This feature is only available on the CuboAi Ultimate Plan)


b. Cry
c. Movements
d. Asleep
e. Caregiver visit
f. Baby not detected
Sleep Metrics:
a. Total In bed
b. Wake-ups


c. Avg. Time to Fall Asleep


d. Longest Sleep


e. Caregiver Visits

FAQ:
1. Do I get separate sleep reports if I have multiple CuboAi

baby monitor

s?
Yes. To activate Sleep Reports for your baby monitors, please tap the baby monitorconnected on top and complete setup for each one. Please refer to How to set up Sleep Reports? for more information.

2. How long will the Sleep Reports report be kept?
CuboAi/CuboAi Plus will generate the sleep report for the previous night within 2 hours after Baby's wake up time every day. The report will be available on the Sleep Reports page until the following day's report has been generated; if there's no new report, the report will only be kept for one more day in the App. (i.e. The sleep report generated and received in the App on Tuesday will be available until the new report is received on Wednesday.)
3. The sleep report doesn't match Baby's sleep time.
Based on your little one's sleep/wake time, you may adjust the bedtime, wake time, and time zone under Settings > Tap the baby monitor connected on top > Sleep Reports Settings.
The bedtime/wake time settings can be changed from the app at any time in order to fit with Baby's routine changes. However, adjusting these settings may affect the generation of the sleep report for the following day.



4. I cannot activate Sleep Reports or Sleep Report shows no data.
If you are having trouble activating the Sleep Reports feature, please check the following:

CuboAi/CuboAi Plus has been paired with your account and is connected to WiFi

CuboAi/CuboAi Plus is placed directly above the crib on the U-stand with the lens looking directly down
If Sleep Reports has been activated but the sleep report shows no data, please check if the lens was pointing down the entire time during Baby's sleep time.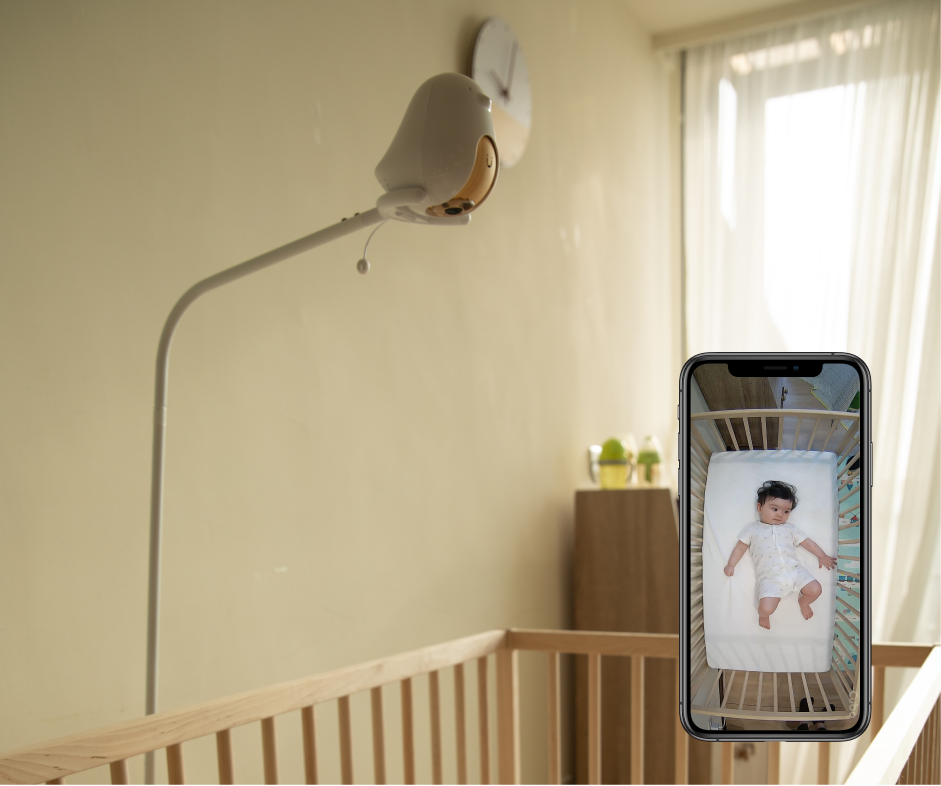 5. Baby's sleep reports are not accurate.
If you noticed the sleep reports are not accurate, it may be that your baby monitor and/or the crib is not set up for sleep reports to be as accurate as possible. Learn how to improve the accuracy of Ai Detection by referring to How to improve the accuracy of CuboAi/CuboAi Plus' Ai detection?
6. Can my family members see the sleep reports as well?
The admin has the same permission level as the account owner and is able to view the Sleep Reports. To allow other family members to view the sleep report, you may enable this feature under Family Sharing Settings > Other Family Member Permissions > Toggle on View Reports.

To protect your privacy, the default permission is set to off.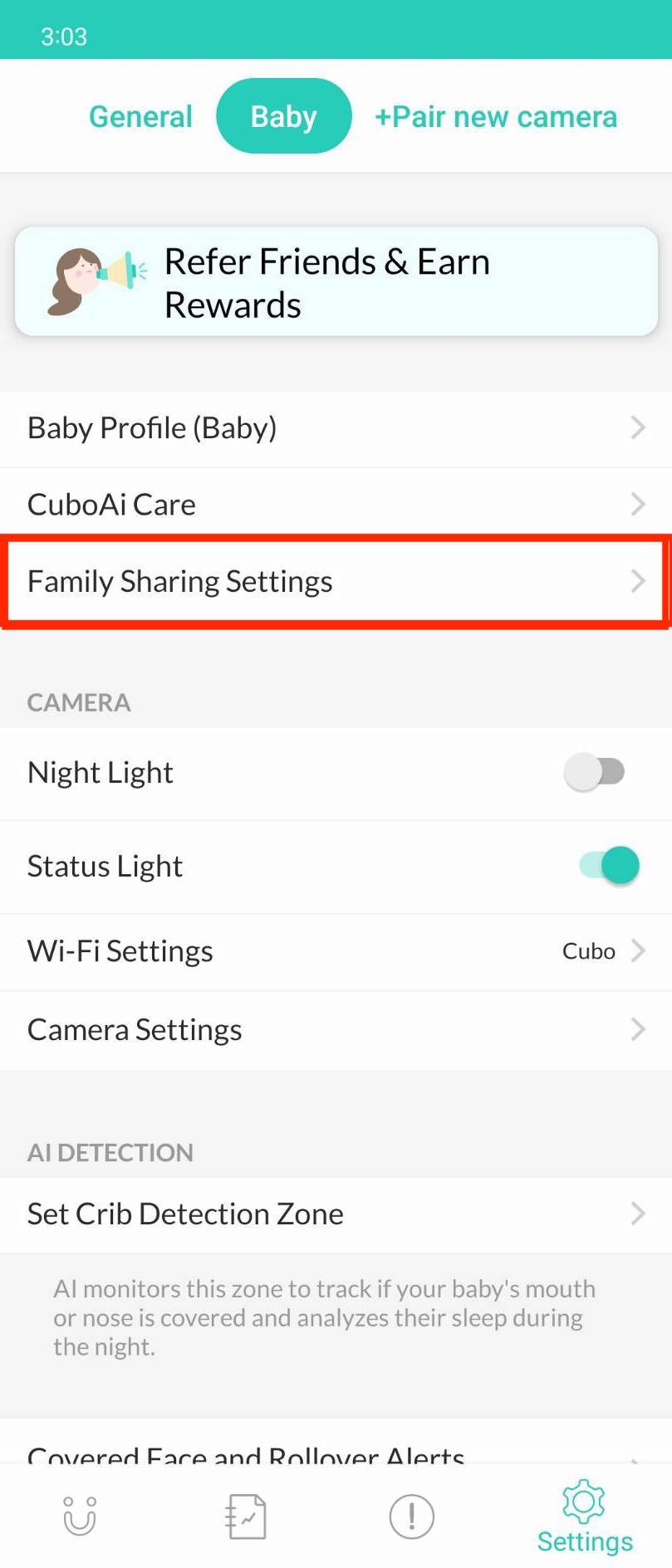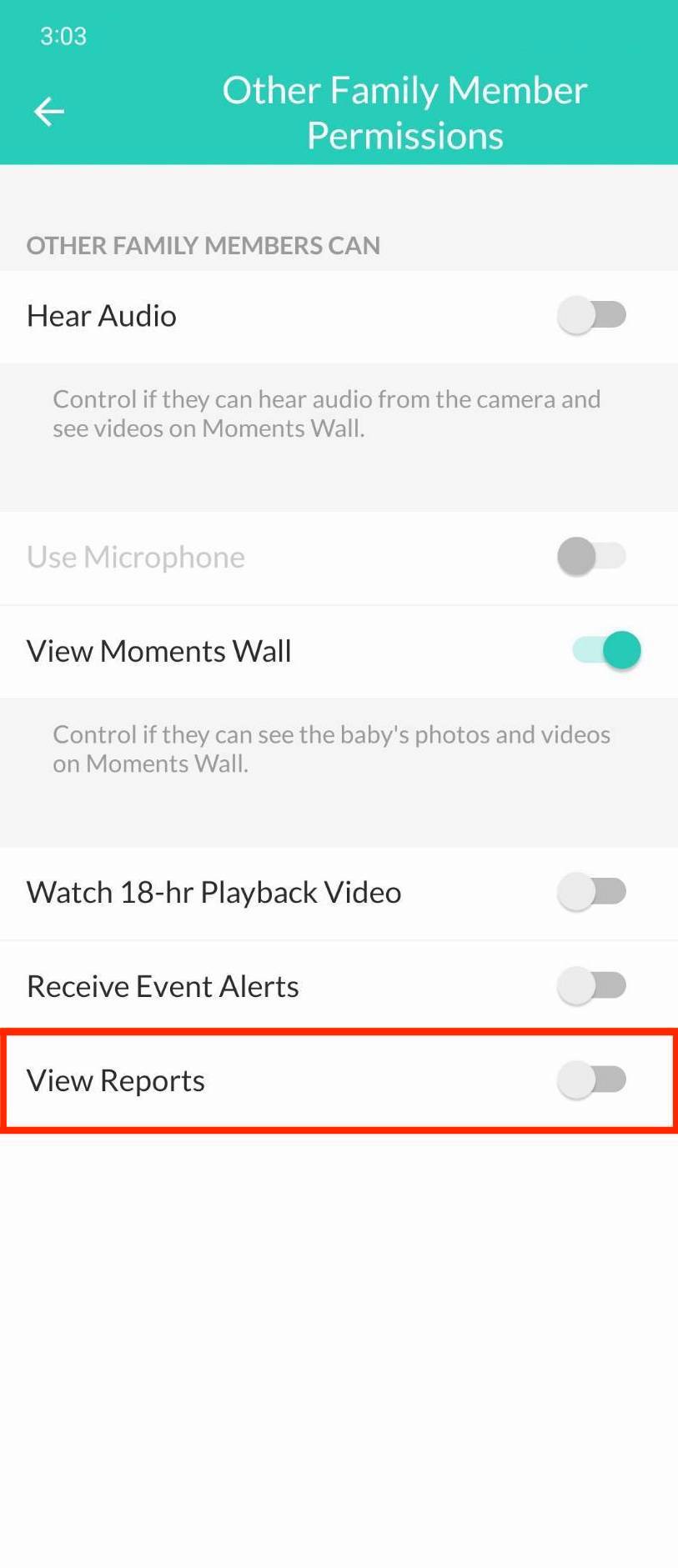 7. I no longer wish to receive Sleep Reports. Is there a way to deactivate it?
There isn't a way to deactivate Sleep Reports from your App at the moment. Please feel free to provide your feedback to our support team so our team can help develop this feature more thoroughly in the future.
Event Tag (available on the playback timeline)
After Sleep Reports has been activated, you may also view your little one's events, including Cry (red marker), Movement (yellow bar) and Caregiver Visits (green marker) and Eyes Open (purple marker) on the 18 Hour Playback timeline by going into full screen in CuboAi App and scrolling back and forth to see the video footage. (The white bar indicates the period when your little one's detected in the crib.)
Customer Support Contact Information
In-App: Settings -> Help Center -> Chat with Us
Facebook Messenger: m.me/cubobabymonitor
Email:support@cuboai.com